Want More Local Customers? Enhance Your Local SEO Performance
Good local SEO (search engine optimization) is essential for modern automotive performance, restyling and restoration shops.
By Barry Alt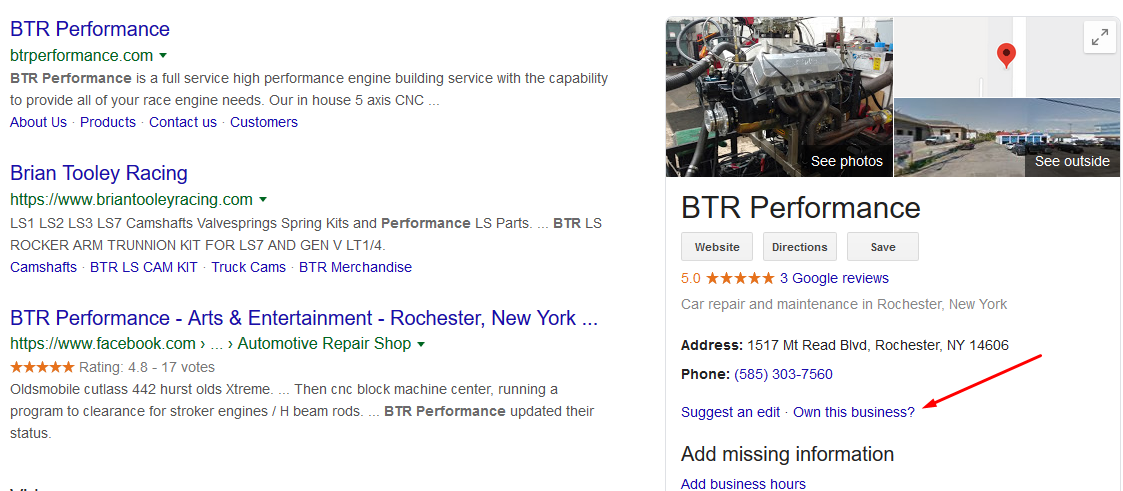 Above: Claiming your Google My Business Page.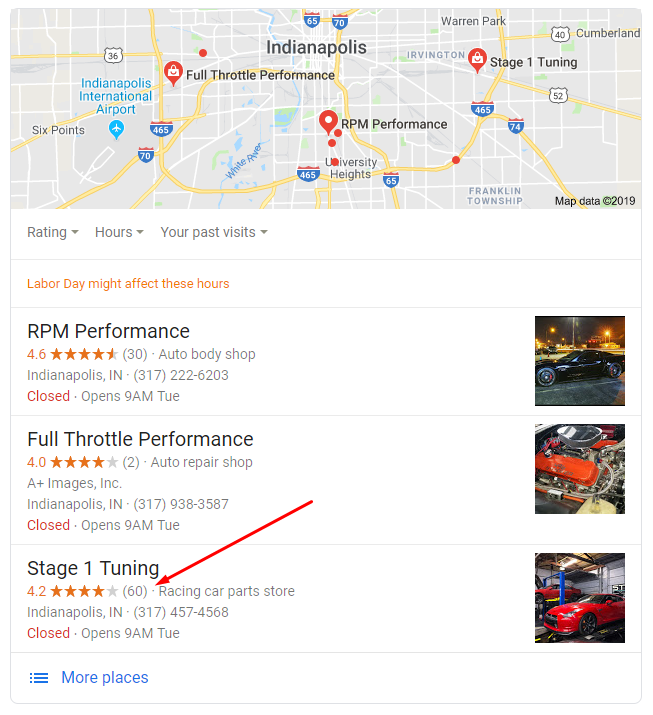 Above: Google listings for "Auto performance shops near Indianapolis"
First off, let's look at what SEO (Search Engine Optimization) actually is.
SEO techniques are used to increase the amount of traffic to your website by reaching a high rank on the results page of a search engine.
When someone searches on Google for your service or product, you want to appear in the top 5 results on the first page (just think about the last time you scrolled through to the 12th page of Google results and went with a company there – we're going to go out on a limb here and say you've never done that).
There are many different types of SEO techniques, including improvements to your website and getting your website mentioned (and linked to) from well-respected websites in your niche.
Good local SEO (search engine optimization) is essential for modern automotive performance, restyling and restoration shops.
Unlike standard SEO, which focuses on ranking on search results across the country, local SEO makes appearing on search engine results in your specific location priority. When implemented correctly, local SEO can help you see a serious increase in local customers.
By taking a look at the following local SEO tips and tricks, you can get your business ranking higher on Google and get more local customers through your door.
1. Create A Google My Business (GMB) Account
To get started on Google My Business, you'll need to claim your business. Search for your business on Google, once you've found your GMB page look for the "Own this business?" button on your listing. If Google has created a listing for your business, you can click this link and claim your Google My Business Page.
Don't worry about paying any fees as this service is absolutely free. Claiming (or creating) your GMB page will enable your business to show up higher on Google's search results and also on Google maps. If a business has a physical address you can bet Google has already created a GMB page for the business.
Already have a Google My Business claimed and set up for your business? Well then there is only one thing you have to do: verify the address, phone number, hours of operation and optimize all the business info that Google allows you to add or update.
This means providing Google with up-to-date information that is accurate and easy to understand – the more recent your updates, the better, as Google loves constant, consistent updates.
Pro tip: Don't forget to add your logo, business description, business categories that describe what your business does, as well as the services that you offer and plenty of images to show off your business premises in your Google My Business listing. The more you add, the more Google will love you.
Google My Business is a great way to encourage your customers to review your services online. Try to respond sincerely to any customer reviews you get – it'll help boost your presence online significantly.
2. Encourage Reviews Online
Getting your loyal customers to write reviews for your business isn't just something that will increase your local SEO rankings, it will also encourage more local buyers to come to you for their needs.
Here are some useful tips to help you encourage your customers to leave a review:
Ask for a review in-person after you've finished their service or they've completed their purchase.
Send a post-purchase email or text, asking if the customer would write a review. You can also try adding an incentive, like a percentage off their next service/purchase.
Make sure that the customers you're asking are happy with your services and you're not approaching a dissatisfied customer. If you do get a neutral or negative review (hey, it happens to the best of us), the best thing you can do is respond in a positive, professional manner.
Respond to ALL existing reviews on your website, Google My Business profile or social media accounts in a professional way. Thank anybody who gives you a review and address any complaints – try to turn an unhappy customer into a happy one.
Reviews are incredibly powerful in the decision making process when it comes to competing against local competitors. In this example, we searched for "Auto performance shops near Indianapolis" – the current top three listings that show up all seem pretty similar, so what's the differentiator that makes the customer choose one over the other two? The multiple 4-5 star reviews! Even though Stage 1 Tuning is listed third they may get more customer visits to their site due to the larger number of reviews compared to the top two in this search.
Here's some key automotive review data from the BrightLocal Google Reviews Study, 2018.
88% of automotive businesses have Google reviews
Automotive businesses have an average of 27 Google reviews
On average, automotive businesses have 4.4 stars
*These findings are based on 1,866 automotive businesses found using 97 related keywords.
PRO TIP: There are a number of reasonably priced automated solutions available that can make it easier to ask your customer for reviews, as well as make it easier for your clients to give reviews.
3. Optimize Your Website For Mobile Devices
As things shift to mobile the number of people that search for things on a desktop or laptop nowadays is decreasing. In fact, 2018 saw 52.2% of all website traffic worldwide generated through mobile phones, up from 50.3 percent from the previous year (Statista, 2019).
If your customers want to look something up, they'll just take out their phone and do a quick search – especially if they're on the road and looking for your location. This is why it's so very important to have your website built and optimized for phones and tablets – you want to reach as many people in your local area as possible and having a mobile-ready website is one of the first steps.

How do you do this?
If you're not sure on your site's mobile-readiness, first test it. An easy way to tell is to view it on a smartphone and if you need to zoom in to read any text, then it's probably not mobile-ready.
Make sure your website loads in under three seconds.
Use mobile friendly fonts that are easy to read.
Use a combination of text, images and video to convey important information. No one likes having to read through a novel just to get to someone's list of products and services!
Test and if needed, re-design your pop ups to work properly on a mobile phone – there's nothing more frustrating than a pop up you can't click out of.
Make sure your phone number is easy to find and click to call is enabled (which means people can click on your phone number and their phone will call you automatically)
Be sure to have a map or your full location address on your site so people can find your location once they've found you in search
PRO TIP: Always be thinking about your target audience and how they may be using your site. As time goes by more people from all age groups move to smartphones and tablets and live on their mobile devices, if your site does not load fast and work well on their devices they will move on…
Please head on over to the Motorhead Digital Blog for the rest of this article.
Barry is the founder of Motorhead Digital, providing signature Marketing Maximizer™ programs specifically developed for auto restoration, performance and restyling shops. These programs are geared towards customer acquisition and conversion to keep those project bookings coming. With over 23 years of experience in digital marketing and web development, Barry's goal is to help clients market and grow their shops through strategic marketing practices. You can reach him at (585) 766-9785, balt@motorheaddigital.com or online at MotorheadDigital.com